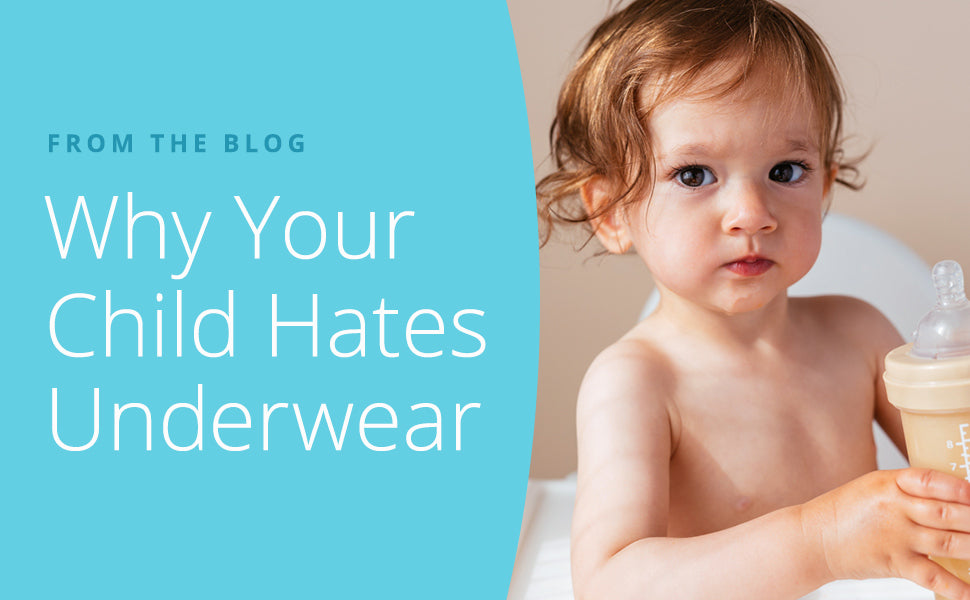 Kids hate uncomfortable undies
If your toddler hates wearing underwear, mornings can be really tough! The clock is ticking as you rush breakfast on the table, make a healthy lunch, and check that everyone has their homework, water bottles and gym shoes.
When you have to spend time each day pleading, begging, and fighting with your little one to get dressed, it might seem this is just another phase you have to deal with. Sort of like how they need the blue sippy cup rather than the red one at dinner or they won't deal.
While it can seem like your child is doing this just to challenge you, there may be another reason. They could be trying to tell you in their own, "subtle" way that their underwear is itchy, bunches up, or just doesn't feel right. Many kids hate underwear because it is just plain awful to wear.
End the morning struggle
Thankfully, there is a quick fix! Comfortable kids underwear that is made well can solve your morning struggles.
To help you out, we've included a few reasons why your child hates wearing underwear, plus some solutions featuring a few of our comfy basics.
4 Reasons Why Your Kids Hate Underwear
Wedgies
Is your child complaining of wedgies? If the fit isn't right, wedgies are the result. If underwear is too big or too tight, your child may find that it rides up and they are pulling on it all day long. That's why we make fit a priority. All Lucky and Me underwear styles for boys and girls are designed to fit properly.
Since no one wants to deal with wedgies, we suggest making sure your children wear underwear that's designed to fit well and made of fabrics that don't shrink in the wash. And we've found that kids have definite preferences when it comes to style and shape. Some prefer the classic brief style, other kids like the security and feel of undershorts or boxer briefs. Check out our  Style Guide for help on choosing the right style and fit for your child.
Scratchy fabric
We know the search for sensory friendly underwear - that sensitive kids love to wear - is a difficult one. Most underwear is made out of fabric that's simply not soft enough. And after just a few washes it can start to feel like sandpaper. For kids with sensory issues, this is torture.
And for all kids, that rough feeling against their skin is uncomfortable, and can make them underwear-resistant. Lucky and Me fabrics are chosen for their soft, luxurious feel against the skin, and their ability to maintain this handfeel over multiple wash and dry cycles.
Too tight or too loose elastic
Either elastic problem is cause for disaster. When it's too tight, elastic can dig in at the waist or leg openings, undies can ride up, and a child can get those red indentations that sting on their skin. Elastic that's too tight can chafe, causing irritation, and even a rash on sensitive skin. 
When elastic is too loose, underwear starts to droop underneath their clothing – bunching up in all the wrong places. Loose elastic can also allow underwear to rub against sensitive skin, sometimes causing irritation and chafing.
At Lucky and Me, we use the finest elastics chosen for comfort and their ability to maintain the proper elasticity for the life of the garments. We also encase the elastic in fabric on many of our underwear and active products for a smooth, comfortable fit. Read more about elastic at our blog post Tactile Sensitivity, Elastic, and Comfort.
Chemical residue can irritate their skin
There are A LOT of chemicals in traditional cotton clothing. In fact, 25% of all agrochemicals are used in processing cotton, while cotton only accounts for 3% of crops. These chemicals leave behind a residue that can irritate a child's sensitive skin.
This is why all our fabrics are tested and certified, so you can be sure there are no harmful chemicals or additives in any of our products. Of course, all Lucky & Me products meet U.S. guidelines for children's safety outlined by the Consumer Product Safety Commission. But this standard doesn't cover some chemicals which are forbidden in other countries. So we test for hundreds of toxins, some of which are allowed under U.S. regulations despite their potential for harm.
Read our blog post No Toxic Chemicals - for Safe Kids' Clothing for more information.
Look for comfort and fit
When you walk into an adult underwear section in a department store, everything is soft. Why do we expect anything less for our kids? And with children's undies, the characters and themes have become more important than softness and comfort. The result is a bunch of kids that hate wearing underwear.
At Lucky & Me, we'd like to change that. We prioritize comfort and fit for every product we sell. Our products are made using the softest fabrics with soft and plush back elastic for extra comfort. We're happy to say that our customers are really noticing the difference.
Parents agree - Comfortable Underwear is Key
Check out this real review from a grandmom who purchased our Sophie Shortie and Annika Boy Short for her granddaughter. It's a story we hear time and time again from moms and dads and grands everywhere.
"My granddaughter has trouble with underwear not fitting properly. She was constantly "adjusting" them. Lol. I ordered the girls Sophie shortie and the Annika boy short. She loves both. But the shorties are her fav by far. No more "digging." I only have one problem with this product…they don't have my size!!"
Moms of boys are seeing the difference too! Here's a review of our Liam Boxer Briefs:
"Absolutely awesome! My son has sensitive skin and gets rashes from other brands of underwear. I bought these to try and his rashes stopped. I got rid of his Hanes and Fruit of the Loom underwear and bought 3 more 3 packs! His Lucky & Me's are so soft- even the waist band, they don't stretch out, they don't leave elastic marks, and fit so well he doesn't even realize they are there."
Buy your kids comfortable undies
By sharing these stories and testimonials, we hope that other parents understand how bad undies can be a real problem for kids. We hope to end the search for toddler underwear that doesn't ride up or chafe. Be sure to avert your daily underwear crisis and buy your children underwear that is comfy!
---
By Liz Smith. Liz has worked across the globe for many of the world's best known apparel brands, including Justice, Chico's, Victoria's Secret, and Hanes. She has worked closely with dozens of factories in more than 20 countries to ensure that production is of the highest standard. Liz has managed all aspects of garment production, from design through fabric development to sewing and merchandising - so she knows what it takes to make high-quality apparel. Liz is thrilled to share her knowledge about clothes to help discerning customers choose the finest products.