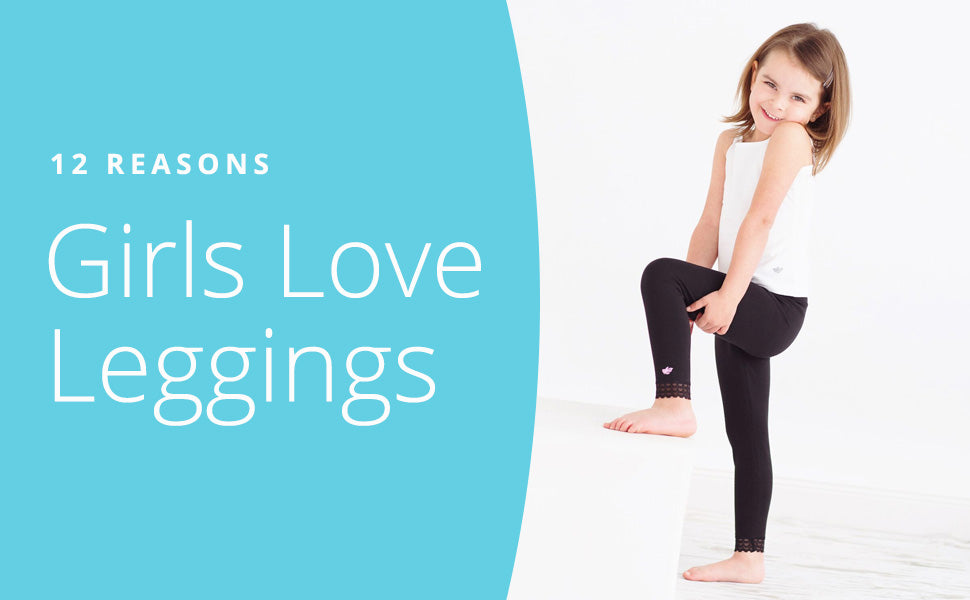 Girls Love Leggings
Girls' leggings are the number 1 style choice this year! The popularity of leggings for girls has grown steadily. Leggings are now the most basic item in any girl's closet, after underwear. It is easy to see why girls, and moms, love leggings. Leggings are comfy, cozy, and extremely versatile – they go with everything!
9 Out of 10 Girls Wear Leggings to School
Seriously, this was not a Reuters Poll, just me, counting the number of girls in the second grade class where I work. I've noticed over the last year that more and more girls are wearing leggings to school – but I didn't count them until yesterday. And the fact is, 9 out of the 10 girls in our class were wearing leggings. They wore black leggings, flowered leggings, leggings with hearts on them, navy blue leggings, pink leggings, and my personal fav – leggings covered in cats!
Are Leggings Pants?
Who cares if leggings are pants or not? The controversy over whether leggings are appropriate attire for school, work, the subway, or even an airplane, is over. Leggings have won. Women and girls everywhere have declared victory and are wearing their leggings anywhere, anytime, and everywhere! 
Leggings – A Brief History
Did you know leggings were first worn by Scottish men under their kilts? The kilt didn't catch on, but leggings became popular with men in Europe and America. Over the years, they evolved from the original leather and chain mail 2-legged versions (ouch!) to more comfortable knitted materials.
Audrey Hepburn popularized the leggings look for women in the 1950's. The modern woman loved the comfort and chic style of her cropped, tighter-fitting pants.
The Beauty of Spandex
Leggings really took off with the invention of Lycra by DuPont. Lycra, generically known as spandex in the US and elastane in many other countries, has the ability to stretch and recover, over and over. The first pair of leggings made with Lycra debuted in 1959, and banished baggy knees forever!
Spandex can be found in most girls' leggings, providing a comfy and stretchy fit all day long. Spandex is the reason why leggings have taken over our closets, and our daughters' closets.
Leggings today combine incredible comfort with all-day wearability. This means they can take a girl from the playground - to the classroom - to a bike ride after school. The modern, spandex-infused legging keeps its shape through all that and more.
12 Reasons Girls Love Leggings
Leggings

 

are so comfy! The fabric is soft and smooth and it stretches.
Leggings

 

keep their shape all day long.
Leggings

 

work for all active girl activities – from gym class to a playground game of 4-square. From sitting criss-cross applesauce on the classroom rug, to after-school gymnastics practice.

 

Leggings do it all.
Girls wear

 

leggings

 

under skirts so they can do cartwheels and somersaults without showing off their underwear.
Leggings

 

are warm...and cool. Many are made from fabrics that are warm enough for sitting in a cool classroom, and also wick sweat and provide cooling for the active times of playground games, sports, and physical education.
Leggings come in lots of fun colors and patterns! Girls' leggings come in a wide variety of choices to match any outfit, and please even the most fussy of children.
Leggings pull down and pull up so easily, the make potty training and bathroom breaks

 

easy peasy!
Girls prefer

 

leggings

 

to tights– they don't slide down and bunch around their ankles. And they don't bind around the waist.
Girls feel more grown up in

 

leggings.
Leggings are fashionable. Everybody's wearing them!
Leggings

 

are softer and more comfortable than jeans. Like yoga pants, they come in a variety of fabrics so they can be snug or loose. They're perfect for

 

girls with sensitive skin.
Leggings

 

layer and go with

 

anything! Wear them with a plain or graphic tee, a patterned blouse, under shorts or a dress – for today's girls,

 

anything goes!
Seriously, the reasons girls love leggings are endless! Check out the many outfit options possible with our Jada Leggings and Kylie Organic Cotton Leggings.
---
By Liz Smith. Liz has worked across the globe for many of the world's best known apparel brands, including Justice, Chico's, Victoria's Secret, and Hanes. She has worked closely with dozens of factories in more than 20 countries to ensure that production is of the highest standard. Liz has managed all aspects of garment production, from design through fabric development to sewing and merchandising - so she knows what it takes to make high-quality apparel. Liz is thrilled to share her knowledge about clothes to help discerning customers choose the finest products.