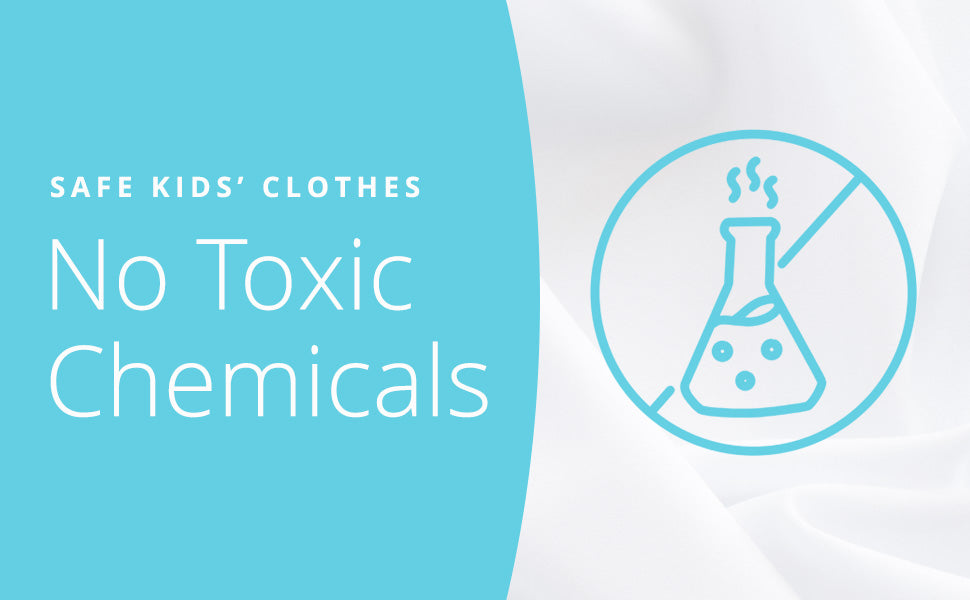 Here at Lucky & Me we want your kids to be safe as well as comfy. Children have soft, sensitive skin that can absorb chemicals that have been used to process and treat fabrics and elastics.
And many textile mills use harsh or even toxic chemicals to create soft, comfortable fabric.
That's why we make sure our clothing is free of toxic chemicals, heavy metals, and harmful dyes. To ensure this, we use test for hundreds of substances to confirm every fabric we use is safe for children.
We follow guidelines developed in Europe, with standards that meet and often exceed national and international standards.
Yep - this means that using these guidelines to test our materials ensures our garments are tested for toxins that the U.S. Consumer Product Safety Commission doesn't require. So you might find those toxins in garments you purchase from brands that aren't as careful.
Here are some tips about staying toxic chemical free:
What do we test for?
Materials used in all our products are tested for several hundred harmful substances. Some of these are: banned azo dyes, formaldehyde, carcinogenic and allergy-inducing colourants, pesticides for textiles made of natural fibres, polycyclic aromatic hydrocarbons (PAHs), tin organic compounds, chlorinated phenols, phthalates (softeners) and many more.
You can be sure that our fabrics are certified free from toxic chemicals and safe for human use. 
Wash all clothing before it's worn.
It's always a good idea to wash clothing before it's worn - especially for kids. It won't wash out harmful chemicals, but it does ensure that any surface dirt, oil, or other substances will be removed.
Sleepwear and chemicals
Synthetic children's sleepwear sold in the US is required to be flame resistant - which requires the use of chemicals which are extremely toxic. Some brands use surface flame-retardants, which are required to last at least 50 wash cycles. Others use synthetics which are impregnated with chemicals to prevent flammability. Most kids brands who sell sleepwear won't even tell you what chemicals they use.
US regulations do allow untreated sleepwear for kids as long as the garments are snug-fitting (and less likely to catch fire). 
That's why at Lucky & Me our sleepwear is made from 100% certified organic cotton. There are no flame retardants and no harmful chemicals in our sleepwear. And it's super soft and snuggly.
Safe and Secure
Always look for clothing that is free of harmful chemicals when purchasing clothing for your children.