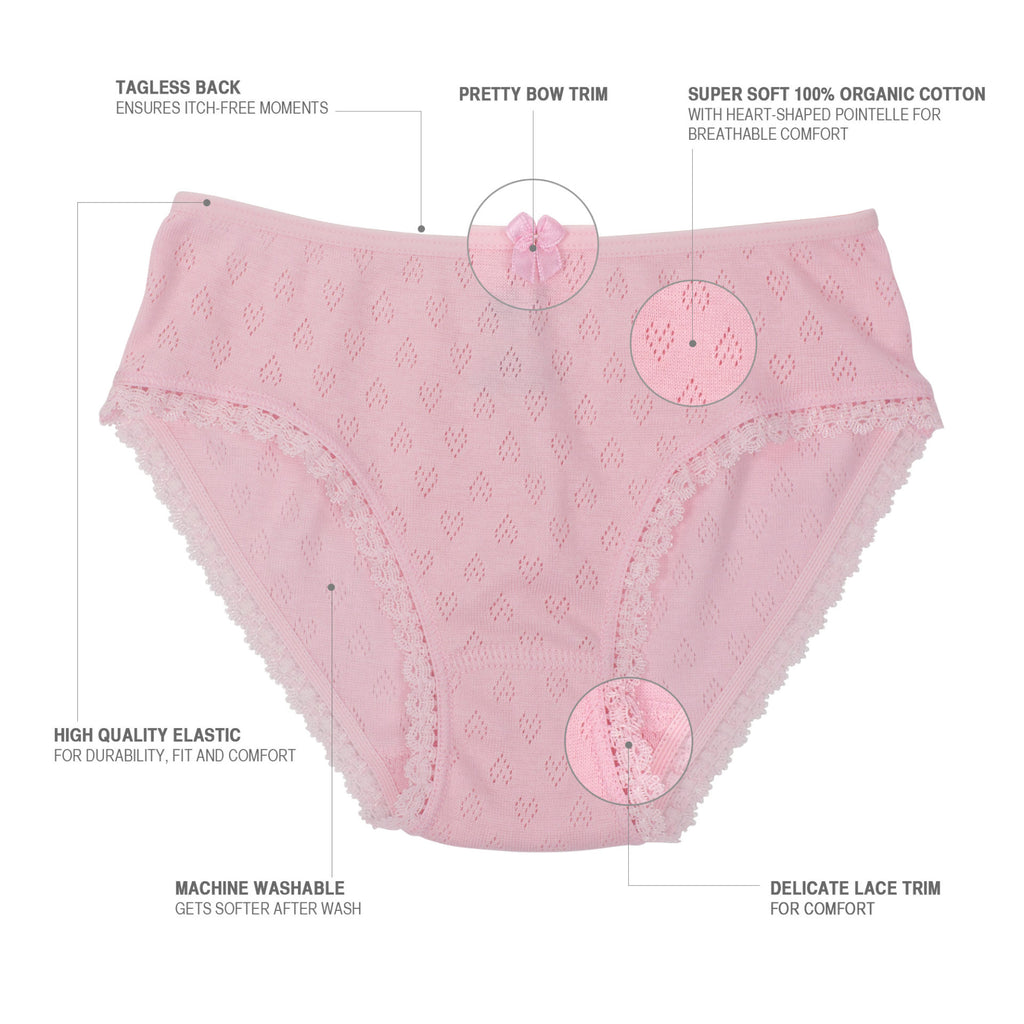 The Lily Collection is a 100 percent organic collection. We take great pride in being a fast-growing brand that provides parents with the choice to choose stylish and affordable organic cotton clothing for children. Why organic underwear?
Founding Parents of Organic Kids Underwear Line
The mom-and-dad team of Rochelle Perera and Kanishka Wijayasiri founded the brand Lucky & Me in 2013. The goal for Lucky & Me is to make available kid-friendly underwear that is safe, comfortable, stylish and affordable. Lucky & Me brand ambassador Rochelle notes, "I was always disappointed when I went shopping for underwear for my daughter. Almost all the products were constructed poorly with low-quality fabric. I felt that there must be other moms like myself in search of high-quality, fashionable organic underwear at affordable prices for their little ones." As veterans of the fashion industry, Rochelle and Kanishka worked for decades in global fashion with a specialization in intimate apparel and sportswear.
A Look at Lucky & Me
"Why should I buy organic children's underwear or sleepwear?" is the main question we hear from interested customers and retailers from Berkeley to Seattle to New York City to South Beach. After all, we've all heard about organic vegetables, organic meat and even organic cleaning products. So how can clothing be organic? Our Global Organic Textile Standard-certified cotton underwear starts with the highest quality cotton. By avoiding the use of pesticides, genetically modified organisms and petroleum-based fertilizers, the GOTS cotton used for Lucky & Me organic children's underwear is soft and delicate. But the benefits don't end there.
Eco-Friendly Undies
By choosing to go organic with our fabric choice, we are choosing to be eco-friendly. The cotton we use is sourced in the most ecologically sound manner possible. In our increasingly eco-conscious society, we believe that the chemicals used for growing conventional cotton contaminate the air we breathe, the water we drink and the ground in which our food grows. Our choice of using organic cotton follows our mantra of providing the safest and healthiest line of children's organic cotton underwear available.
Beyond Organics
Along the way, our organic girls' underwear has met our high standards in several respects. Because our fabric is soft to the touch and eco-friendly, it is free of hazardous chemicals, which is a blessing for children with tactile sensitivity or skin that is easily irritated. Topping it off, we've incorporated several aspects of underwear, from style to tagless features, that bring our brand of organic cotton underwear, which kids love to wear, to the forefront of fashion. Join us as we continue to revolutionize the world of organic children's cotton underwear!
Available in sizes 2/3 to 9/10, our children's underwear lines feature dozens of styles, ranging from briefs to camisoles. Protect your children by choosing the highest quality line of underwear on the planet. To learn more about organic cotton's benefits, read our blog post Why Buy Organic Cotton Children's Underwear. And, learn more about the benefits of organic cotton clothing for children in this video about our Organic Cotton Collection.
Click the link below to see the entire collection of organic cotton.
Lucky & Me Organic Cotton Collection for Boys and Girls
Benefits of Organic Cotton | Lucky & Me from Lucky & Me on Vimeo.
---
By Rochelle Perera. Rochelle is Co-founder and Chief Product Officer of Lucky & Me. Rochelle is a mom who believes all children deserve comfy clothing. She grew frustrated with buying scratchy, badly-fitting underwear her daughter hated to wear and decided to take matters into her own hands. Rochelle has 20 years of experience in fashion, so she created Lucky & Me to offer parents comfy, quality, durable basics your kids will love. Rochelle enjoys bringing her expertise to our blog.