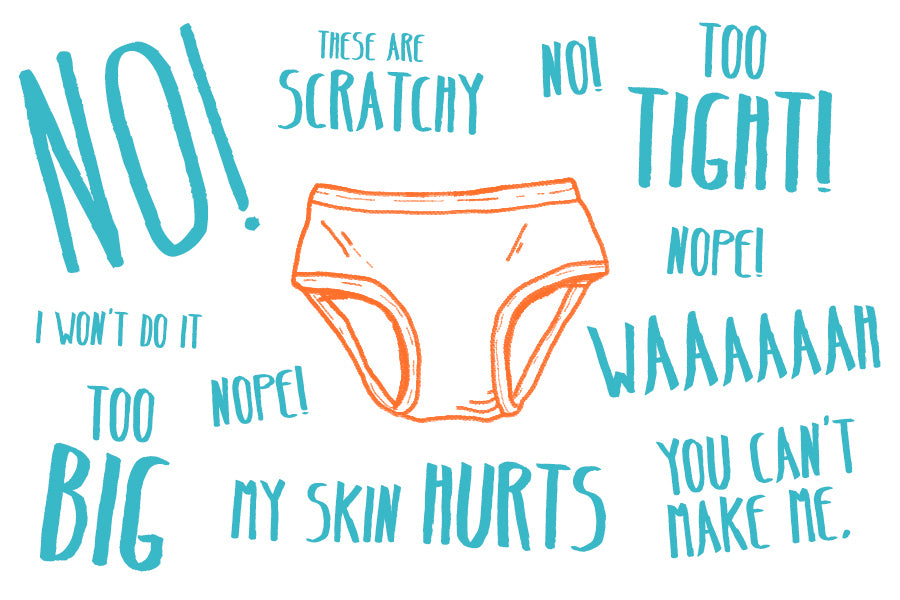 When it comes to wearing underwear, some kids simply don't want to do it. Chemically-dyed fabrics cause underwear to be scratchy and rough on their skin. Itchy labels and too-tight elastics make undies super uncomfortable to wear.
Parents all over the US from San Francisco to NYC are at their wits' end. While buying kids' dresses online has become a no-brainer, many parents still are not aware of how to find high-quality, yet affordable, organic chemical-free underwear online. Here's a guide to help you solve your child's I hate wearing underwear dilemma.
Comfort and Fit of Underwear
When it comes to comfort, look for organic cotton underwear instead of synthetic fabrics. Cotton breathes and moves with a child's body giving her plenty of room and comfort.
Also, look for organic cotton underwear for kids that is designed appropriately  Full coverage in a popular brief style, such as the Lily Collection of girls' underwear, gives a child plenty of coverage while staying in place on her body. Amazingly, not all girls' underwear on the market is made to fit. Much of it is made for show.
What kids really want is underwear that is free of scratchy, itchy and binding materials. Look for simple designs that focus on wear and are free of tags, oversized and hardened embellishments, and cheap elastic bands. All Lucky & Me clothing is tag free, uses premium elastics, and any embellishments are simple and comfortable.
Kids Underwear - Disney Characters & More
Rather than purchasing underwear simply because they feature Frozen characters or Teenage Mutant Ninja Turtles designs, look for underwear based on the comfort and fit. Companies that make underwear with Disney licensing are spending a fortune on the licensing and very little on the materials used for the underwear. Additionally, a growing number of parents are concerned with the adverse effects of the influence of Disney princess figures on young girls.
In a New York Times article, Peggy Orenstein highlights the negative effects of a preoccupation of beauty and body for young girls as a result of being in a culture overly exposed to Disney princesses. The products portraying these princesses include everything from hairbrushes to bedroom pillows to children's underwear.
Girls are living a princess fantasy by being surrounded with all things princess. In addition to the cheaply made qualities of printed character underwear, as well as the branding undertones, print underwear is heavily dyed with chemicals. This causes the fabric to have very little give while feeling scratchy and rough on your child's skin. Instead, choose to purchase organic underwear for children that is free from Disney licensing and heavy dyes.
Minimizing Chemicals
Select children's organic cotton underwear so you are sure that it does not contain poisonous chemicals. Most mainstream underwear for kids has been treated with chemicals beginning with the cotton-growing phase and up to the dying process. When your child wears such underwear they are being exposed to dangerous chemicals and toxins.
Parents who are investing in their children by purchasing organic milk and apples would certainly want to steer clear of choosing kids' underwear that contains deadly chemicals. These poisons are coming in contact with their skin, causing them to itch and break out in rashes.
Toxins, such as phthalates and per- and poly-flurinated (PFOAs) chemicals, that are added to fabrics during the printing and dying process can leach into your little one's skin, creating havoc on their immune system and nervous system. This has adverse effects on their development.
Recently Greenpeace demanded a recall of clothing including kids' underwear by companies including Disney and GAP due to the presence of these toxins. Prevent this development concern altogether by choosing chemical-free organic underwear for kids.
By Rochelle Perera. Rochelle is Co-founder and Chief Product Officer of Lucky & Me. Rochelle is a mom who believes all children deserve comfy clothing. She grew frustrated with buying scratchy, badly-fitting underwear her daughter hated to wear and decided to take matters into her own hands. Rochelle has 20 years of experience in fashion, so she created Lucky & Me to offer parents comfy, quality, durable basics your kids will love. Rochelle enjoys bringing her expertise to our blog.