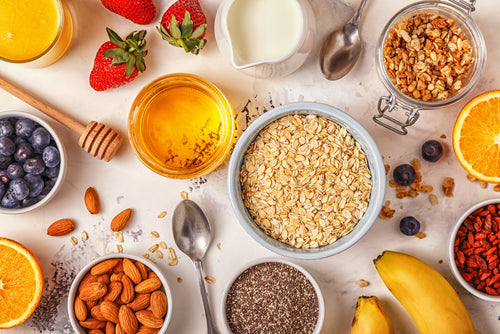 The morning can be hard. Really hard. Today, kids are busier than ever and have so much going on. From their after-school activities to weekend events, it can sometimes be challenging to know if they are eating the most nutritious foods to keep them moving and energized.
And as we parents always say, the most important meal of the day is breakfast and having a healthy start is a great way for both you and your kids to power through your morning. Read on to check out a few of our favorite healthy breakfast ideas for the family featuring some options even your little one's can help out with.
Healthy Breakfast Ideas to Try
1. Smoothie: A great option for those frantic mornings (hello, everyday), a smoothie is an easy way to load your kids up with veggies and fruits without them even realizing the boost of nutrition they are getting. One of our favorites is the Bright Green smoothie from Weelicious.
2. Fruit Bowl: A relatively easy option, you simply need a combination of fruits that you mix into a bowl and serve. A variety like blueberries, strawberries and raspberries is always a great antioxidant power mix to serve.
3. Oatmeal: A great way to get a good dose of nutrients is by enjoying a hearty (and heart-healthy) bowl of oatmeal. To save time, you can prepare the oats the night before and then heat them up in the morning. Have your kids get involved by adding their own topping to their bowl of oats like berries, raisins, and nuts.
4. Cereal: Of course sometimes, there's just no time where only a bowl of cereal will do. Make this a healthy option by opting for a low-sugar blend and topping it with some fresh fruit.
5. Avocado Toast: The new Queen of breakfast, this heart-healthy and easy option is a great way for your kiddos to get a dose of those healthy fats.
6. Vegetable Omelette: If you have time, consider making an egg omelette with your child's favorite ingredients. This can be a variety of veggies, meats and cheese that's always a great way to start the day.
7. Granola Parfait: A fun DIY breakfast option, get your kids involved in this one as they layer up their parfait with yogurt, granola and a variety of fruits.
8. Healthy Waffles: A fun and delicious way to start the day, we love the Strawberry Waffles from Super Healthy Kids that we know your kids will dig, too.
9. Muffins: Another option to prep the night before are muffins. There are so many recipes out there that you can make based on your child's dietary preferences and taste. Some of our favorites are the Healthy Apple Muffins and the Orange Cranberry Muffins, both from Super Healthy Kids. What's your child's favorite go-to breakfast option?
---
By Serena Norr. Serena creates digital and social media content for a wide range of brands and businesses. She develops multi-media marketing strategies, and manages content across a variety of platforms. Serena is the curator for The Moms Network in Northern Westchester, New York, so she keeps current on all things mom-related and she brings this knowledge and experience to the Lucky & Me blog.