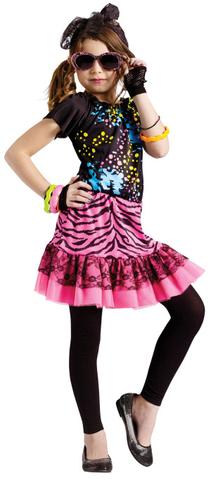 FInally a Halloween Costume Decision is Made
I'm happy to report that a costume decision has been made and executed! Our girl will be a pop star for Halloween and the main costume has already arrived. What I learned when shopping on Amazon for just the right pop star look, is that there are many different versions, and each comes with only some of the items shown in the photo.
Accessories Not Included
So you have to read the product details and fine print very carefully to know what accessories you'll receive, and which you need to purchase separately to complete the look. Our preferred version of a pop star is from the '80s so she has a lacey ribbon in her hair (included) and fishnet gloves (also included - but for good measure we ordered another set of four).
This costume does not include a microphone but don't worry, Amazon will suggest one for you as an item many people purchase with this costume. And there are many types of microphones from which to choose. There are the old-fashioned hold-it-in-your-hand microphones, which come in black plastic, glittery gold, some are even inflatable. But for the true pop star look, you can purchase a headset microphone. It comes in black, white, or pink and for $8.94 they will send one of those colors to you– but you won't know which one until it arrives. That was ok with us as any of them would match the colorful top and bright pink skirt.
Girls Leggings Complement Halloween Costumes
Most of the costumes we considered were pictured with tights or leggings, and yet these were not included. In our part of the country, legwear is not only a critical component of pop star apparel but also necessary for warmth and comfort on what is often a very cold night of Trick-or-Treating. So we will be layering our own black leggings under this costume and also a camisole for added warmth. If we're lucky, that will be enough to keep our budding superstar warm, but one recent year we had snow on Halloween so we'll keep a pop-star-appropriate black sweater handy just in case!
---
By Liz Smith. Liz has worked across the globe for many of the world's best known apparel brands, including Justice, Chico's, Victoria's Secret, and Hanes. She has worked closely with dozens of factories in more than 20 countries to ensure that production is of the highest standard. Liz has managed all aspects of garment production, from design through fabric development to sewing and merchandising - so she knows what it takes to make high-quality apparel. Liz is thrilled to share her knowledge about clothes to help discerning customers choose the finest products.