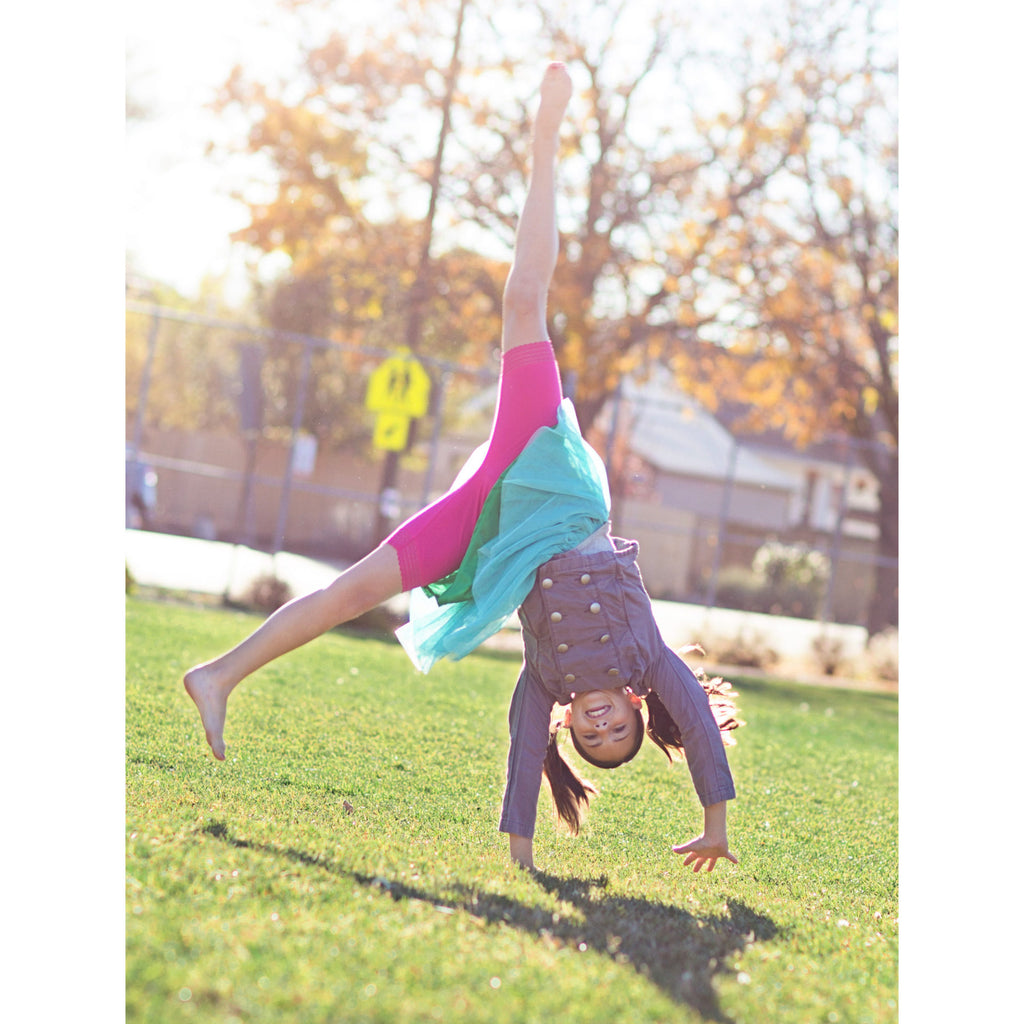 Recent years have seen a rise in the children's fashion trend of shorts worn under skirts for girls ages 3-10. The trend was partly due to fashion – girls say they like the bright colors and that their friends are wearing them.  But girls undershorts also meet a practical need for modesty.
"If I jump up, my dress goes up and people can see my underwear," 6-year-old Julia Willard, a first-grader from Chevy Chase, Md., told the Wall Street Journal in their article, For Fearless Back-to-School Fashion, 'Modesty Shorts' Under Skirts. Julia likes to use the zip line on the playground at her school, and participates in cartwheel competitions with friends. "Julia is very active, and she is more comfortable with shorts under a dress," Julia's mother, Linda, told the Journal.
Undershorts, Cartwheel Shorts, Bike Shorts, Tumble Shorts
Retailers have caught on to the trend, bringing to market a variety of brightly colored "tumble shorts", "bike shorts", and "modesty" or "privacy" shorts. Light-weight and snug, the garments are designed to either be a bright contrast color or to blend in with skirts, dresses, and school uniforms.
"They prevent your underwear from showing and thus prevent schoolyard teasing and embarrassment," Francie Pants, a Carlsbad, Calif., online retailer told the Wall Street Journal. The company has seen a rise in demand for these shorts, and have increased their range of colors from six to twenty in the past six years.
Even Schools Think Girls Undershorts are a Good Idea
Some schools are even requesting the shorts for pre-school and elementary-school aged girls, drawing on the girls' feelings of freedom and comfort when wearing them while being active during the school day. Sears and JCPenney Co have begun to stock and promote "Playground Pals", mini shorts sold in the children's department near dresses and skirts. Sears told the Wall Street Journal that the HanesBrands Inc.'s Maidenform shorts allow girls to "enjoy playing on the jungle gym during recess or participating in a game of kickball when she's wearing a dress."
Lucky & Me Girls Bike Shorts and Undershorts
Rochelle Perera, co-founder of children's underwear company Lucky & Me, designed a bestselling line of girls bike shorts after being inspired by her own child. "My daughter had reached the age where dresses and skirts no longer came with the attached shorts underneath, and yet she was too young to realize that flipping over monkey bars and doing somersaults was showing off her underwear," Rochelle explains. "I found a need for stretchy shorts that would provide both comfort and coverage all day long."
Girls Love Bike Shorts
Bike shorts worn under skirts and uniforms are a trend not only among parents and shoppers but children themselves. "Kids are more aware of trends than ever before," Old Navy's Vice President Andres Dorronsoro told the Wall Street Journal.
Retailers are paying attention. Children tend to like layers because they can mix and match colors and patterns, and some are predicting more athletic-inspired trends due to comfort and mobility. As promoted on the Lucky & Me's Jada Girls Bike Shorts page: "Whether girls are getting ready for their school day, going down the slide at recess, or practicing cartwheels in dance class, Jada Bike Shorts will provide a soft, flexible fit all day long."
---
 By Emma W.