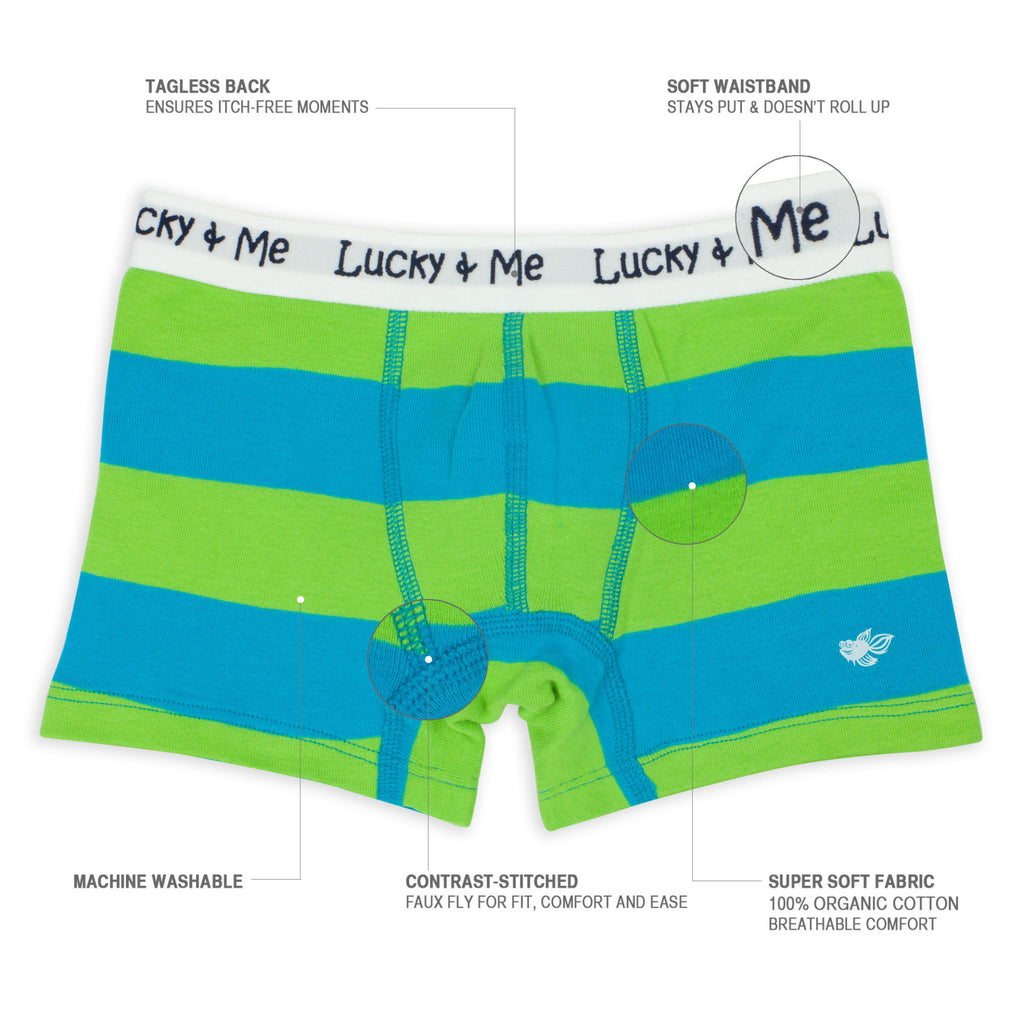 Getting your child to wear their underwear can be a nightmare. First, the underwear doesn't fit well. Next, your child is pulling and digging around in their pants, trying to find the tag or embellishments that are causing them grief. Finally, your daughter or son refuses to wear underwear because the fabric is scratchy or stiff. In the end, you are left with a drawer full of underwear that are the wrong size, shape, color, and fabric after endless trips to the store.
Rather than grabbing the first pack of children's underwear you see when you are picking up a gallon of organic milk, it's time to find a company and brand of children's underwear that you can depend on. Here are five tips you can use for improving your child's underwear fit.
Size Charts—Use Them
One of the first issues kids have with their underwear is that they simply do not fit. Too tight in the waist, too loose in the bottom area. There is a wide range of size variation between brands, as well. The next time you search for a pair of organic underwear in 6T, for example, check out the size chart of the brand you are going to buy.
For instance, the Lucky & Me size chart for underwear size 6 states this is for a child who has a 21-inch waist and 24-inch hips. Don't just guess the size based solely on the size of pants your child wears - this can vary from underwear size. Instead, measure your child for fit based on the size chart. Then, determine the appropriate size via a size chart specifically designed for underwear.
Comfy Guarantee
If you cannot return your child's new underwear if it doesn't fit, then you should purchase from a different company. After all, just as with adult underwear, fit and comfort can vary depending on the brand. Look for a company, such as Lucky & Me, that offers a generous return and exchange policy to ensure you are purchasing your kids underwear that fits and is comfy. Lucky & Me have a Comfiness Guarantee so you can feel confident that you will find the right style for your child.
Kids Underwear Style Choices
Kids wear many different hats, from ballerina to baseball player to tea party play date to soccer star. They should wear kids underwear that suits all these occasions. While girls' bikini underwear styles and boys boxer briefs are appropriate for everyday wear, some girls might find that boyshorts are more comfortable under leggings or bike shorts.
Under shorts for girls, such as the Lucky & Me Sophie Shorties are perfect for wearing under dresses and skirts for girls who like to look fancy while getting their feet dirty. Leggings and bike shorts add a touch of style beneath a tunic, as well as providing a comfortable fit for girls on the go. Choose styles of bottoms for your child's underwear to ensure they have the perfect fit for every situation.
And check out our Kids Underwear Style Guide for guidance on the different choices.
Use a Reputable Brand and Company
You wouldn't choose a black market brand of underwear for your children, yet many parents purchase chemically saturated, poisonous under shorts and sleepwear for their kids every single day. Avoid buying children's underwear from companies that care only about their bottom line. The last thing they are going to worry about is whether your kids' underwear and sleepwear fits appropriately. Look for a brand and company of children's underwear that cares for children. This will save you tons of time on dealing with underwear that is ill-fitting and potentially harmful for your child's skin.
Check Out Customer Reviews
A final tip is to go online and view the reviews from companies who sell children's organic underwear. For example, Lucky & Me includes reviews of products alongside the underwear and sleepwear collections that are for sale. This allows you to see what other moms and grandmothers like you are saying about the underwear, under shorts or sleepwear you are about to purchase. Use these reviews to help you make the best decisions regarding fit of your child's organic underwear.  
By Rochelle Perera. Rochelle is Co-founder and Chief Product Officer of Lucky & Me. Rochelle is a mom who believes all children deserve comfy clothing. She grew frustrated with buying scratchy, badly-fitting underwear her daughter hated to wear and decided to take matters into her own hands. Rochelle has 20 years of experience in fashion, so she created Lucky & Me to offer parents comfy, quality, durable basics your kids will love. Rochelle enjoys bringing her expertise to our blog.