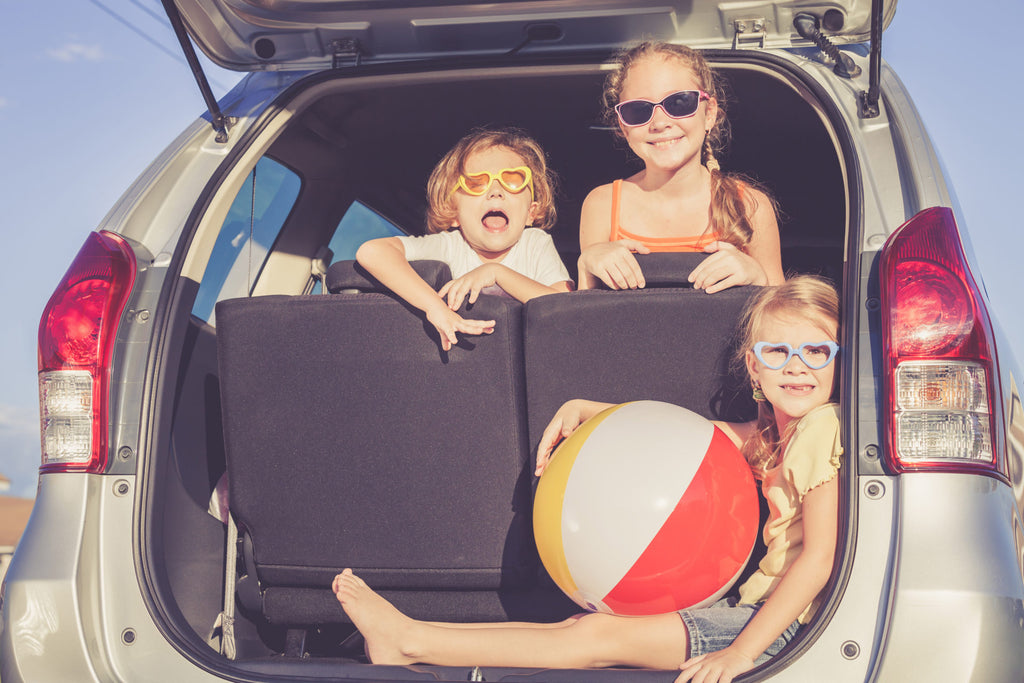 Planning a fun family vacation to Disney World? Flying to another state to visit the Grandparents? Daring to go on an international vacation with your toddlers? Whatever adventure you may be embarking on, summertime is the best time to get away to enjoy some quality time with your family. Not only do you have more time with school being out, you can also enjoy longer days with some incredible weather.
Just one thing--Packing!
Before you go anywhere, you'll have to pack for yourself, along with everyone else in your family, most notably your kids. If you are like the millions of traveling parents out there, you understand how packing for kids can be a hassle! From making sure they have enough essentials to whatever additional items that you might need for your destination, it's no wonder packing evokes a sense of dread!
To help you out, we're sharing some of our favorite tips to ensure that you're as prepared (as much as possible) for your summer escape. Read on to check out how to pack, where you'll find some of our favorite items that we know your kiddos will love.
How to Pack for Your Child for Vacation
Step 1: Choose the Right Fabrics
As obvious as it might sound, summer is hot and kids will sweat! Which, as you know, can lead to complaining and whining. One way to keep them comfortable on your vacation is to avoid synthetic fabrics that will cause your kid to sweat unnecessarily.
Organic cotton underwear, for example, is ideal for traveling, since it promotes air circulation and absorbs moisture away from the skin.
Best of all, cotton fabrics are all natural and less likely to cause rashes and irritations.
Plus they are super comfortable, ensuring that your child won't fuss and fiddle in their airplane seat because their underwear is bothering their bottom.
You can find affordable yet super comfortable organic underwear by Lucky & Me. Check out our cute Lily collection of organic cotton briefs for girls and our Grayson collection of organic cotton boxer briefs for boys!
Step 2:Stick to the Basics
Avoid overpacking for your kiddos this summer.
It's easiest to stick to the basics when packing for kids. This means the color combos you pack should work for multiple outfits. This will save you so much stress in case your child has an accident, either on their shirt or in their shorts.
For every day you are going away, pack one T-shirt like our Hannah Tunic Top, one pair of shorts, one pair of socks like our new Sonya Socks, and set of organic cotton underwear by Lucky & Me. Then add two extra pairs of each of these items, just in case.
Don't forget the sleepwear! You will want to include a pair of pajamas for every night you are away from home.
On top of this, include one long sleeve T-shirt, one fleece pullover, and a rain jacket to account for sudden changes of weather.
As for shoes, include a pair of summer sandals, flip flops for water sports and closed-toe shoes, like sneakers, for bicycling, hiking, or amusement parks.
Step 3:Organize Your Items
Avoid the iron like the plague over the summer by opting for clothing, like cotton, that's not going to wrinkle when in transit. After you have all of your essentials, it's time to get organized and pack!
Start packing by getting a Costco-sized box of gallon-size, plastic Ziploc bags. Use a permanent marker to write the type of garment on the outside of each bag, i.e. "Shirts," "Sleepwear," "Underwear." As an alternative, you can also use a single bag for each outfit, saving you time when getting dressed up for dressy occasions, such as wedding receptions or family photos.
Take every item of clothing and fold them halfway. Stop and roll each piece from the top to the bottom. Neatly insert the rolled clothing in the appropriate bag. Once filled, press the air out of the bags and zip to secure.
For your children's clothing, these bags are the perfect size for DIY vacuum-sealed clothing. Best of all, using this method allows you to pack twice as much in a single suitcase while keeping the clothing free of moisture during your travels! Here at Lucky & Me we would love to hear your upcoming summer vacation travel plans! Please comment and if you have any power packing tips to share, please do!
---
By Rochelle Perera. Rochelle is Co-founder and Chief Product Officer of Lucky & Me. Rochelle is a mom who believes all children deserve comfy clothing. She grew frustrated with buying scratchy, badly-fitting underwear her daughter hated to wear and decided to take matters into her own hands. Rochelle has 20 years of experience in fashion, so she created Lucky & Me to offer parents comfy, quality, durable basics your kids will love. Rochelle enjoys bringing her expertise to our blog.