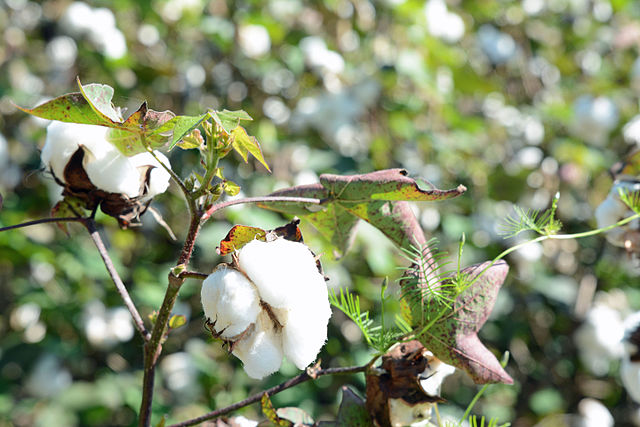 Did you know that cotton crops use 25% of all agro chemicals and 10% of the world's fertilizers? For using so many chemicals, it's even more surprising when you find out that cotton only accounts for 3% of the world's agricultural crops.

All those chemicals cause problems throughout the cotton production process. There are reports of contamination of water supplies, health problems for workers (who in many cases are still hand picking cotton crops), and harmful byproducts leaving behind a residue on the products that we use every day.

These chemicals leave behind a residue that's present in many children's products. Raw cotton is also subject to bleaching and dyeing before being processed into everyday products. Chlorine bleach is used to whiten cotton. It's harsh properties also produce harmful byproducts that can cause irritations and skin reactions.

Organic cotton is produced without any fertilizer or harsh chemicals. So you can rest assured that what you're putting on your child is 100% natural. Because there aren't any chemicals, it is gentler on sensitive skin. It feels softer than traditional cotton, so it's great for kids with tactile sensitivity. Lucky & Me's organic cotton underwear is also tagless, which also helps with sensitivities.

Kids with eczema also benefit from organic cotton clothing because it doesn't aggravate their skin. We have had moms from all over thank us for our products because it helps to control their child's eczema.

Because there are no pesticides used in organic cotton production, it's sustainable and better for the environment. The farmers don't have to spend money on fertilizers and pesticides, and they aren't put at the risk of handling these chemicals. Also, factory workers that produce the organic cotton garments aren't handling the byproducts of these pesticides.

Organic cotton is also 80% rain fed, so it puts less pressure on water sources and reduces the changes of a water shortage.

There's no question that organic cotton is the best choice for our environment, and also for our bodies. Becoming aware of these benefits empowers consumers to make the right choice when it comes to the products they buy. It's important to get the word out about organic cotton, and start asking retailers for more than just options--but the best options available.
---
By Stacey.