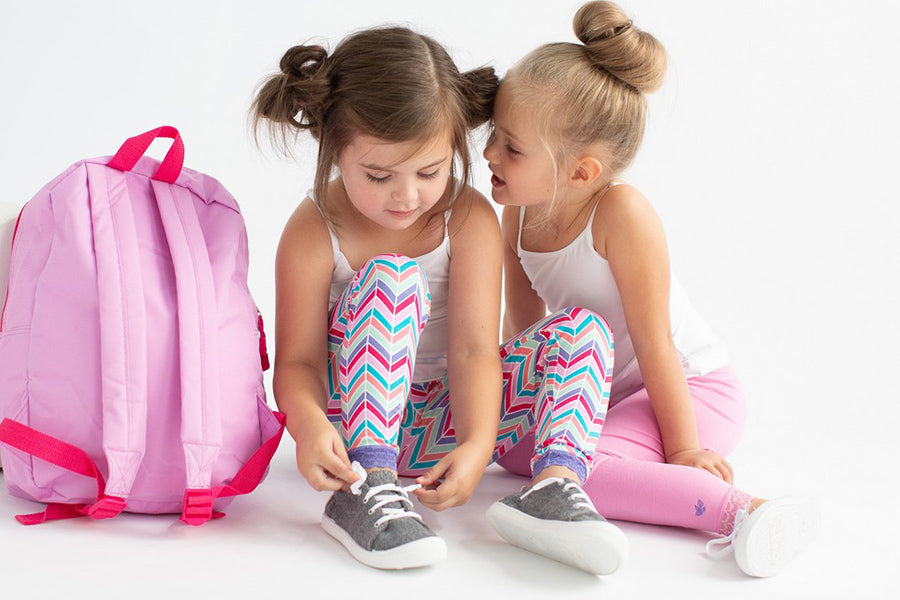 The Back to School scramble has begun! Back to school shopping for comfortable underwear should be at the top of your to-do list. As you check off pencils and new shoes, don't forget the item of clothing that goes unseen and often forgotten –your child's undies.
Growing bodies need frequent underwear updates, and sometimes even a new style that fits their changing shape better. This is the perfect time to look into the comfort, fashion, and affordability of Lucky & Me underwear for girls and boys!
Comfortable Underwear is Key
All parents will agree. Our school-age kids value comfort. So start your back to school shopping with comfortable underwear that stays comfy all day. And whether your child is flipping around on the monkey bars or reaching for the sky on the swings, they will thank you!
Comfortable Underwear Fits Well
One of the most frequent comfort offenders for active children is badly-fitting underwear. That is why Lucky & Me designed our super-soft underwear that fits well. Did you know that choosing the right style for your child's body can make all the difference? We've created the Kids Underwear Style Guide to help you choose the right fit for your child. We also offer breathable boxer briefs for boys that fit like a dream thanks to our newly improved waistband in our Liam collection.
Back to School Underwear is Tagless
Make sure the underwear you buy for back to school is tagless. You know how distracting it can be when your tags have rough edges. It's the worst! All Lucky & Me underwear is for minimum scratchiness and maximum comfort.
Make Dressing Easy
Look for back to school dressing ease with Days-of-the-Week undies for girls that ensure your child can get dressed in a flash each morning.
Try Cotton Modal Stretch Blend Underwear
We have found that
adding modal
to our cotton fabrics provides many benefits due to its unique properties. The cotton/modal/spandex blend of our
Ava Bikinis
and
Annika Boyshorts
provides wicking to keep little bodies dry and comfortable all day. The
spandex
allows for flexibility on the playground and stretch recovery for perfect fit and comfort. Your little ones will love the features modal brings to undies.
Shopping for Comfortable Kids Organic Cotton Underwear
Sending your child off to school involves a great deal of trust on your part as a parent. After all, your child will develop and be influenced by the ideas and actions of your school administration, teachers, and the other students in the class. If you place this much trust in your school, how much trust do you place in your child's clothing? Your child's underwear is the closest thing to their skin. They sit and move in them all day. It's time to choose a type of underwear that is going to be safe and free of toxic chemicals.
Enter the world of 100 percent organic cotton underwear for kids. Made using 100 percent organic cotton, this is an all-natural, toxin-free material. Cotton is prized for its ability to breathe, reducing the occurrence of rashes and bacterial infections. The Gracie collection by Lucky & Me features organic cotton underwear for girls while the Grayson collection of organic cotton boxer briefs is designed especially for boys.
Love Our Kids Underwear - Or Return It!
Every parent wants to save money when it comes to purchasing school necessities. That is why Lucky & Me offers a Comfiness Guarantee on all of our underwear collections - full stop. Our comfy collections of underwear are affordable. And they come with the promise that your child will be happy as a fish in water when they wear their Lucky & Me undies.
We want your child to be comfy ever after. If for some reason they aren't, we will fully refund your hard-earned cash. Or give you the option to try any of our other super-soft collections. We are confident that your child will fall head over heels for our itch-free, tag-free and super stylish underwear collections. Lucky & Me also offer classic tee shirts, so there is comfortable underwear for every child to wear as you kick off the school year!
---
By Liz Smith. Liz has worked across the globe for many of the world's best known apparel brands, including Justice, Chico's, Victoria's Secret, and Hanes. She has worked closely with dozens of factories in more than 20 countries to ensure that production is of the highest standard. Liz has managed all aspects of garment production, from design through fabric development to sewing and merchandising - so she knows what it takes to make high-quality apparel. Liz is thrilled to share her knowledge about clothes to help discerning customers choose the finest products.