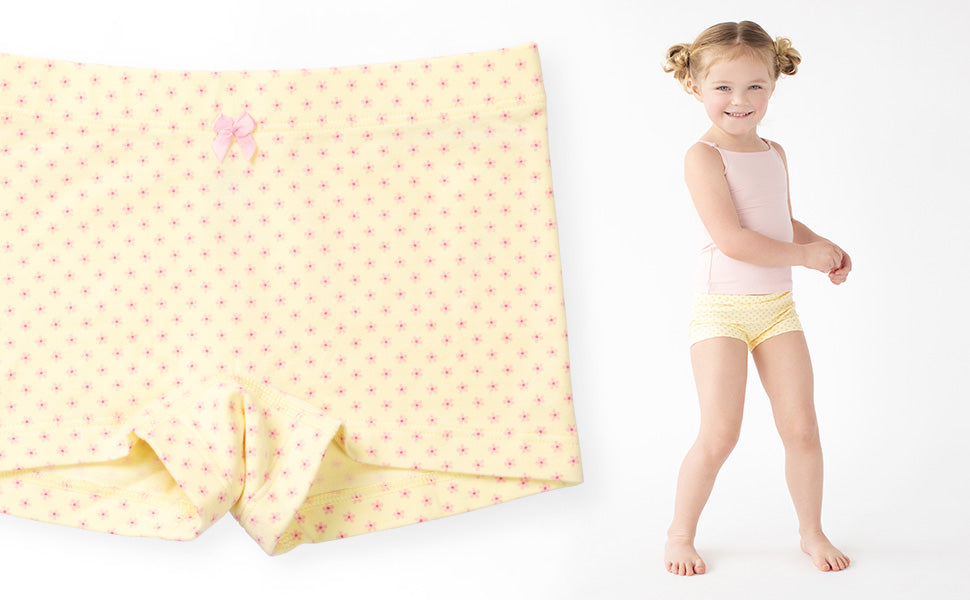 We've talked about the great properties of modal in our blog post The Many Benefits of Modal Fabric for Kids. Today we want to tell you why we believe blending cotton and modal with a touch of spandex produces the best fabric for kids' clothing. 
We're certain that once you read about the comfy and sensory friendly properties of our cotton modal blends, you will want to check out our Cotton Modal Collection.
Cotton Modal is super soft
One of the best properties of modal is its silky soft feel. When modal is blended with cotton the resulting fabric is luscious. It feels light, cool, and very smooth against the skin.
Cotton Modal absorbs dyes for lasting color
Check out the vibrant colors available in our cotton modal underwear and clothing for girls and boys. Adding modal to our fabrics allows them to absorb color beautifully - resulting in a delicious range of colors. And they retain their color wash after wash.
Cotton Modal is more absorbent than cotton
Because modal is 50% more absorbent than cotton, adding it to our cotton modal blend makes for undies that are cool and comfortable. Sweaty little bodies will be more comfy when that moisture is wicked away. Unlike 100% cotton, which can become damp and clammy, our boys and girls clothes in cotton modal keep your little one dry and comfy all day long.
Cotton Modal resists shrinkage
Because modal is 50% more resistant to shrinkage than cotton, clothes made from cotton modal blends are less likely to shrink or twist in the wash. Of course, make sure to follow the washing instructions for best results. Read our blog post Laundry Temperature - Hot, Warm, or Cold Water? for more information on washing underwear fabrics.
Cotton Modal with Spandex for fit
We add a small amount of spandex to all our cotton modal blends. This little bit of stretch and recovery makes for a relaxed comfortable fit. And the spandex helps to ensure that garments retain their comfy fit all day long. You can read more about the properties of spandex in our blog post Spandex in Kids' Clothing?
Cotton Modal is breathable
Modal is made from Beechwood Trees - these natural origins give modal its breathable properties. Adding modal to cotton creates a blend that is more breathable than all cotton - and therefore cooler and more comfortable all day long.
Cotton Modal is durable and resists pilling
Modal is stronger than cotton, and much more resistant to pilling. Adding it to cotton in our blends means your kids will outgrow their undies and clothing before you notice any wear and tear. Our durable underwear means you'll be able to pass their Lucky & Me items down to your little ones or your friends' kids.
Cotton Modal is Eco Friendly
Making modal yarn is much easier on the environment than growing cotton. It's just that simple - cotton uses more land and 10-20 times more water than modal. So combining the two yarns into one fabric blend benefits our planet by reducing water and land use.
Cotton Modal is Sensory Friendly
One awesome benefit of blending cotton and modal is the relief it brings to parents and kids who are looking for sensory friendly clothing. We have had many folks tell us that Lucky & Me undies are the first ones their child will wear. 
Our super soft, smooth, and snag-resistant cotton modal fabric is the foundation of garments that are exceedingly comfy for sensitive kids. The breathability and absorbency of cotton modal keeps kids comfy all day long.
And we don't stop there - we design our garments to be sensory friendly. All are tag free, with smooth seams, fluffy threads, and the softest waistbands and leg openings. Learn more about our approach to comfort in our blog post Why Do So Many Kids Have Sensitive Skin?
Once you have tried cotton modal for your child, we think you'll agree that combining the benefits of cotton and modal is a wonderful choice for comfort - and quite possibly the best fabric choice for kids' comfort.
Click below to see our cotton modal collection.