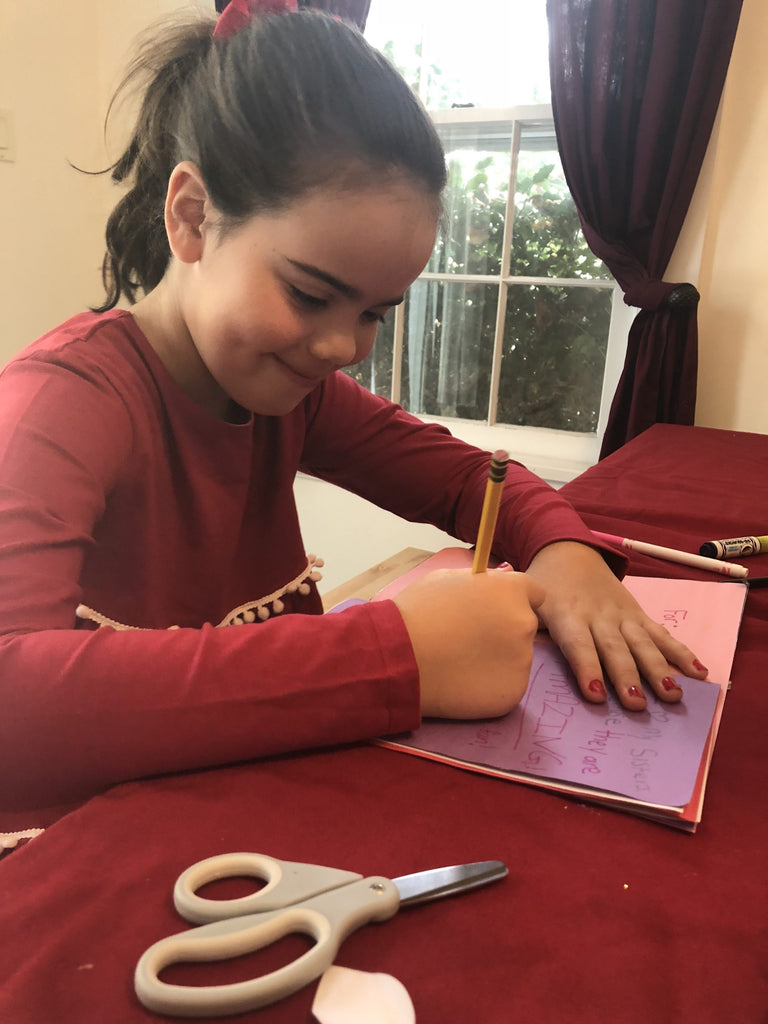 The day of love is quickly approaching, and we couldn't be more excited! We love making DIY Valentine's Day crafts as a small way for our kids to show theirgratitude and appreciation to their friends, family and teachers through sweet messages and clever crafts.
This Valentine's Day, we created a simple yet fun Valentine's Day love book that kids of all ages could create and make their own. Follow along for the items you'll need, plus directions on how to create these crafts in no time.
P.S. Check out our comfortable Emilia Dress, taking centerstage during this Valentine's Day craft session.
How to Create a Fun Valentine's Day Love Book with the Kids

Valentine's Day Craft Supplies
Construction paper Variety of markers, crayons and paint Old magazines or coloring books Seasonal washi tape Stapler Mod podge
Directions   
1. Pick out your construction paper: Have your child pick out a variety of colors for their books. Around 8-10 sheets is ideal.
2. Fold the paper: Have them stack and then fold the construction paper in half, then fold it again to create a mini book.
3. Create your cover: This part is really fun since kids can create whatever they like on their love books. It can be a collage, picture, painting or simple art. It's really open to whatever your kid wants to do. We used some festive washi tape to frame the book and tons (and tons!) of stickers for decor. If you are creating a collage cover (great for older kids), coat it in mod podge to seal in the cut-out magazines, that when dried, creates a glossy finish.   
4. Write your message: In the books, the kids wrote why they love all of the people in their lives, which started with a simple opener: I love my Dad because...Older kids can express this more thoroughly; while it might be easier for younger ones to draw a picture to show their love. Your kids can fill it up each day, leading up to Valentine's Day.
5. Share it: If you have time, you can make multiple books (and smaller) books where your child dedicates one book to one person. The recipient will love the sentiment, thought and creative energy that went into making these books. Making crafts for Valentine's Day? We would love to see what you create. Tag us on Instagram at @wearluckyandme to be featured!
---
By Serena Norr. Serena creates digital and social media content for a wide range of brands and businesses. She develops multi-media marketing strategies, and manages content across a variety of platforms. Serena is the curator for The Moms Network in Northern Westchester, New York, so she keeps current on all things mom-related and she brings this knowledge and experience to the Lucky & Me blog.