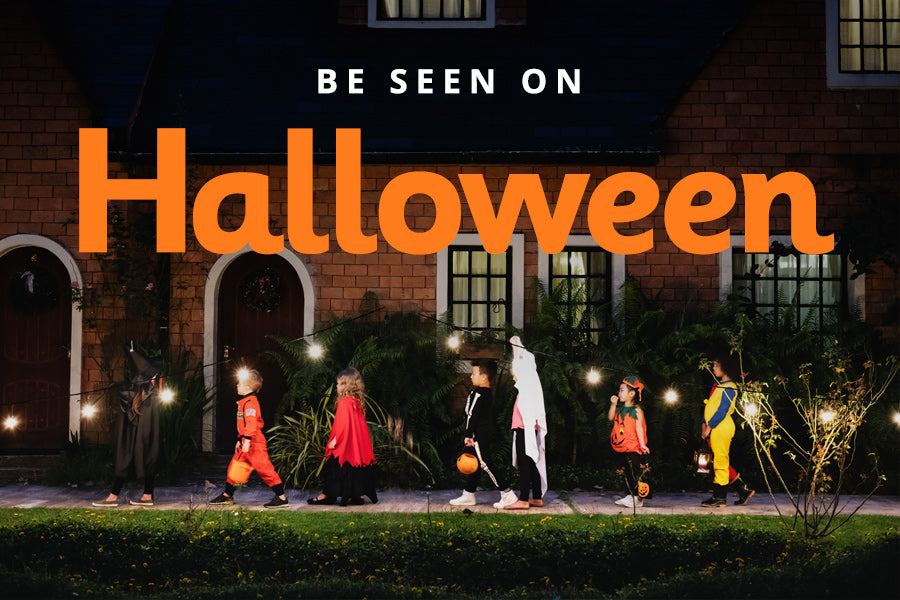 Halloween - what could be more fun than a holiday where kids get to dress up in fanciful costumes and wander outside, at night, with their friends, collecting delicious candy treats!
Parents beware, though. Being out and about on the streets at dark can put kids at risk. Check out these Halloween Safety Tips to keep your little ones safe.
Trick or Treat Safety
Kids Should Be Seen
Make sure your kids are highly visible. Add reflective tape to their costume and candy bag. Provide glow stick bracelets and necklaces for hands-free extra visibility.
And consider adding a light, bright item such as a white hat, bright sneakers, or other costume-appropriate accessory.
Kids Need to See
Make sure masks fit properly and your child's eyes match up with the holes. Or consider using child-safe make-up instead.
Provide a bright flashlight or headlamp - and make sure batteries are fresh.
Guardians Keep Kids Safe
It almost, but not quite, goes without saying that a parent or guardian should accompany younger kids. When to allow pre-teens to go trick-or-treating with their friends is an individual decision that varies with maturity of the kids and circumstances of the neighborhood. For a general rule, kids under 12 should be with an adult.
Stay Together
Tell kids to stay with their group - and to never let a friend leave the group and go off alone.
Map the Route
Map out a route so you know where your kids will be.
Cell Phones On
Have kids carry a cell phone for easy communication.
Lights On, Or Skip It
Advise kids to only visit homes where there's a light on.
Follow Street Safety Rules
Stay on side-walks, preferably on well-lit streets. If there are no side-walks, remind kids to walk facing traffic, as far off the road as possible. Use cross-walks for crossing wherever possible.
Make eye contact to ensure the driver sees you.
And don't assume because one car stops, the one behind will. Always check to make sure they have before crossing the street.
Candy Rules
Factory Wrapping for Safety
Remind kids not to eat candy or treats which do not have the factory wrapping. Check your kids' candy when they get home - discard any which isn't factory wrapped unless it comes from a source you know well.
No more popcorn balls unless they were made by your Aunt Sally or beloved neighbor!
Freeze Extra Candy
Freezing candy is another way to keep it out of the hands of the kids - you can dole it out as you see fit.
Limit Candy to Once per Day
Set a special time once per day (or week if you're really strict!) for candy consumption. When our daughter was little, her dentist told us it wasn't so much the amount of sweets she ate that was bad for her teeth, but whether she ate it all at once, or snacked all day.
If she ate sweets once, and then brushed her teeth, it was much better than having frequent treats that exposed her teeth to sugar throughout the day.
Donate to the Troops
Consider giving some of the loot away. Some towns have programs to collect extra candy and send it to soldiers or give it to nursing homes. Our dentist has a buy-back program to encourage kids to give up some of their candy.
And many families like to donate their excess candy to US soldiers. Check out Operation Gratitude for instructions on how to send your candy to the troops.
Follow these Halloween Safety Tips and have a fun-tastic Halloween!
---
By Liz Smith. Liz has worked across the globe for many of the world's best known apparel brands, including Justice, Chico's, Victoria's Secret, and Hanes. She has worked closely with dozens of factories in more than 20 countries to ensure that production is of the highest standard. Liz has managed all aspects of garment production, from design through fabric development to sewing and merchandising - so she knows what it takes to make high-quality apparel. Liz is thrilled to share her knowledge about clothes to help discerning customers choose the finest products.