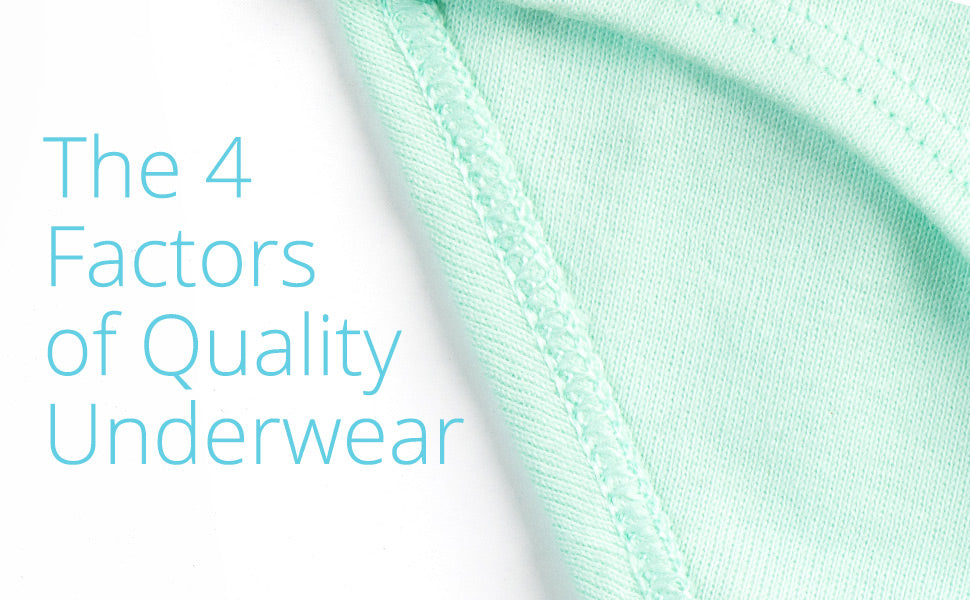 Searching for the best kids underwear is a challenge. Quality underwear should be soft, and fit well, and durable enough to last through many wash and wear cycles. Why is it so hard to find boys and girls underwear for our children that does all this?
What is the Best Quality?
The best kids underwear scores high in four basic categories. Fabric, Fit, Fabrication (how it's made), and Findings (a fancy apparel word for laces, elastics, bows, and other trims). Let's unpack these one by one.
1. Fabric Quality
Have you tried to economize by trying mass market kids underwear? Sure, they don't cost much. But the fabric of those character undies is handkerchief thin and scratchy. What's worse, they become stiffer, thinner, and more scratchy with each wash cycle. The best quality underwear starts with quality fabric. Fabric that feels soft to the touch. Fabric that isn't stiff and drapes nicely. Fabric that improves with each wash cycle by getting softer and more comfy.
The best fabric for kids underwear is soft
We all have our preferences. Maybe you prefer 100% cotton for its natural breathability. Or organic cotton for its purity and softness. Blended fabrics can offer the best of both worlds, especially when they include modal, known for its soft hand and wicking properties. And many of us look for a little spandex in our clothing - for that added stretch and the way it recovers back to its original size and shape.
No matter which fabric you, or your kids, prefer when buying kids underwear - it's the way it feels that matters. Look for kids underwear fabric that is soft and comfy.
The best fabrics are made from high quality yarns, with long fibers that provide softness, durability and also prevent pilling. The best fabric weight is high enough to feel plush, provide durability, also maintain softness and drape.
At Lucky & Me, we use a variety of high quality fabrics for children's underwear. These superior fabrics hold up during the daily wash and wear cycles kids clothing requires. They even become softer as they age. This is the sign of a truly wonderful and very high quality fabric made from premium yarns.
Quality fabrics pass all the tests
Excellent brands use regular inspection and testing to ensure consistent quality of fabric. Fabric mills and factories use established quality standards to ensure the quality of the finished product.
Look for Certified Organic Cotton
All Lucky & Me 100% organic cotton fabric is certified and comes from yarn made to the Global Organic Textile Standard for ecological and social responsibility. And we are working toward certification of our brand in 2021 so we can put the GOTS label on all our packaging. Read more about the benefits of organic cotton in our recent blog post about Why Buy Organic Cotton Children's Underwear?.
Chemical free underwear is best
We also test all our products to ensure they are free of harmful chemicals, dyes, and heavy metals. This means you can be certain that every garment your child wears is made without harsh or toxic chemicals. Read more the steps we take in our blog post No Toxic Chemicals - for Safe Kids Clothing.
 2. Fabrication - Kids Underwear Should Last
Here's another thing about cheap undies. Makers use the cheapest sewing methods. They leave gaps in seams. Or raw, unfinished edges. This matters because that raw hem can scratch tender young skin. It can also start to unravel and shred after just a few wash cycles.
Quality underwear is made using better sewing methods. For example, the gusset edges are folded over and stitched down without leaving a raw edge.  Waistbands are sewn with plush thread, or encased in fabric. Leg elastic is completely covered. These details provide comfort and durability for a lifetime.
Take a look at this Lucky & Me Gracie Brief. See how flat and smooth it is? The waist elastic is completely encased and there are no exposed raw fabric edges. These are the hallmarks of quality construction. 
3. Findings - Elastic, Thread, Lace, and more
What are findings? That's what apparel companies call anything that's not the main fabric of a garment. Probably because we have to go out and "find" it all once the fabric's been decided.
Trims should be soft. And they should match the fabric. They should look like they belong - in style and color. And they should be the same quality so they don't degrade the quality of the garment.
Tag Free
Why do so many kids underwear brands use those awful paper tags? They are guaranteed to scratch. And even fabric tags can irritate when they're sewn in with harsh thread. That's why all our garments are tag free - the care and content information is printed onto the garment for a smooth, comfy feel.
Soft Laces
It wouldn't make sense to put a low quality lace on a high quality legging, for example. The lace might disintegrate on washing, leaving a perfectly good legging with a raggedy edge. Or the legging might be perfectly soft and comfortable. But if the lace feels scratchy, or too tight, those leggings will end up on the giveaway pile.
Say no to Latex
It's very important to have good quality elastic - especially on children's underwear. The first rule is no latex. Lots of kids are allergic to latex and many cheap brands use it - especially at the leg openings. Even when it's encased in fabric, the latex often can be seen, and felt, because the seam is not secure and the latex ends up against the skin.
The best underwear uses quality elastic
The second rule of elastic concerns stretch and recovery. Your little girl's underwear should not feel like control top pantyhose at the waistband! The elastic needs to have enough stretch to give easily but still hold in place.
And elastic needs good recovery - the ability to return to its original size and shape. Otherwise it will stretch out and become wrinkled or loose after a few wash cycles. Nobody likes that!
Fluffy Thread
Take a look at this close-up of the Lucky & Me Ava Bikini. The stitch used is called an overlock. You'll find it on many types of garments. With the wrong thread, this stitch can be scratchy and irritating. But we use thread designed to be fluffy and gentle. It will feel ultimately soft and comfy against even the most sensitive child's skin.
And take a look the beautiful lace. It is just as smooth and comfy as it looks. And because it is the leg elastic, it's made to stretch and recover with your child's every movement throughout a busy day. 
4. The Best Kids Underwear Fits Well
What's worse than a wedgie? Not much! That's why fit is so important. At Lucky & Me, each garment is tried on a live model. A real girl or boy who can provide feedback on where the style feels comfortable - or not! This feedback is essential to the fit process and ensures each garment is made to the specifications of real children.
All kids are different
Of course, kids are different. Some get bigger before they grow taller. Others are skinny and short. So different styles fit different kids...differently. It might take a bit of trial and error to determine if your girl prefers a bikini shape, or a more modest boy short. Does your boy prefer boxers, briefs, or boxer briefs? 
If you're not sure which underwear style suits your child best, check out our Style Guide for more information on the differences between girl and boy underwear shapes.
Take a look at the features of our classic Gracie Organic Cotton Brief for Girls. Gracie's our most popular style. Is it the plush, soft organic cotton? Fabric encased edges? Classic no-wedgie fit? You be the judge.
Consistency is key
Once you have your child's style preference figured out - you should be able to repurchase that style again and again. It should be consistent every time you purchase.
Lucky & Me ensures that each panty, cami, legging, boxer, and brief is made to spec to ensure that your child is comfy in their clothing all day long. 
Comfiness Guarantee
We are committed to producing the best underwear for your kids. That's why we back up our quality with a Comfiness Guarantee. We're certain you'll find a style that your girl or boy will love.
---
By Liz Smith. Liz has worked across the globe for many of the world's best known apparel brands, including Justice, Chico's, Victoria's Secret, and Hanes. She has worked closely with dozens of factories in more than 20 countries to ensure that production is of the highest standard. Liz has managed all aspects of garment production, from design through fabric development to sewing and merchandising - so she knows what it takes to make high-quality apparel. Liz is thrilled to share her knowledge about clothes to help discerning customers choose the finest products.