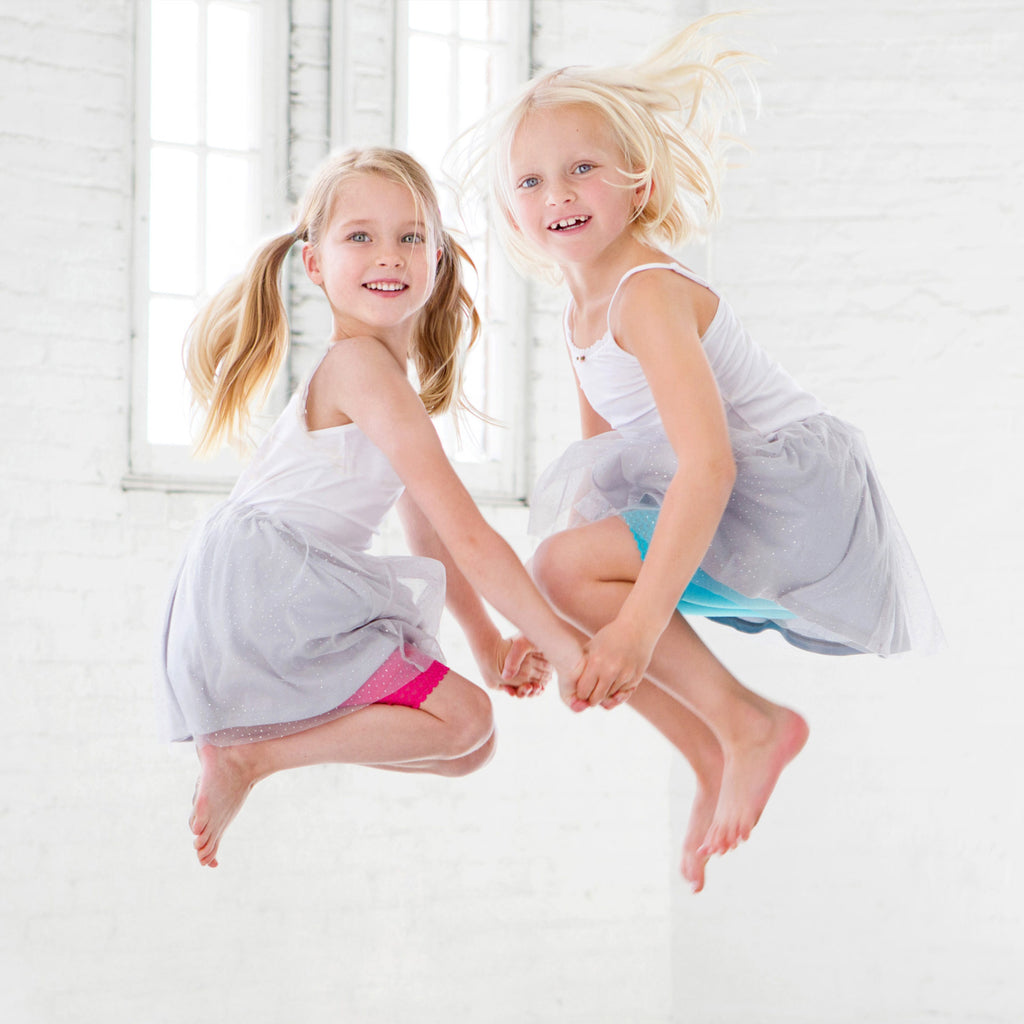 It's that time of year when all we can do is dream of sunny days and fill our minds with warm thoughts. As you determine what pieces to add to your child closet for summer, consider adding stylish undershorts to the mix. The latest kids' fashion trends for spring/summer 2015 include plenty of dresses and layered ensembles. From Kate Spade New York collection featuring the girls' Jillian dress which is perfect for twirling, tumbling and everything in between. Prepare your daughter for a day out without distress by including an age-appropriate pair of comfortable undershorts in her collection.
Little Girl Shorts for Under Dresses
When it comes to dresses, the best form of privacy control is in a good pair of undershorts. Little girl shorts to wear under dresses allows your child to wear her dresses all summer long, while still being able to slide down slides, flip on the monkey bars and ride her bicycle without any discomfort. While long leggings are perfect for wearing in the fall and winter, no little girl wants to sweat to death in leggings during the summer. Give her a compromise by supporting her active lifestyle with the addition of soft, cotton-blended under shorts to her clothing collection.
Color Ideas
How do you choose the right color and style of organic undershorts for your little girl to wear under dresses? Start by selecting basic colors that scream "Summer," such as vivid hot pink. Next, toss in a color that is going to offset her typical girly dress hues of pink, yellow and orange. Your best bet is to include a pair of turquoise blue undershorts for girls into her undershorts collection. Of course, every outfit works well with white, so go ahead and add a pair of cotton undershorts for girls in white to round out the summer outfit sets. Wish you could find all three colors in one amazing style that is both high quality and affordable?
Here at Lucky & Me we have the Jada Girls Bike Shorts collection, which features a variety of color and pattern choices of our most popular undershorts for girls. You will receive a pack of three pairs of bike shorts ready for your daughter's summer dress debut. The Jada Bike Shorts can be layered or worn on their own with a t-shirt– perfect for the beach or pool over a swimsuit.
Style Tips
Wearing undershorts with dresses is a breeze when you find a great style of undershorts. For example, undershorts for girls featuring stretchy lace will give your daughter's outfit a sweet little touch as the lace peeks out from under the hem of her skirt or dress. When shopping for girls' dresses online look for dresses that will coordinate with the undershorts, as well:
Choose dresses that sit at or around knee length if seeing the well-made undershorts is a style option
Go with midi or full-length dresses, which are also in style for summer 2015 for girls. Wearing undershorts under longer dresses only adds to the comfort level of your active daughter.
Comfort in Under Shorts
While style and modesty are key factors in choosing undershorts for girls for the summer months, comfort is just as important. By adding undershorts to your little girl's dressy outfits you ensure that she can reduce the amount of sweat and moisture that she experiences when playing outside on hot and humid summer days. Choose materials, such as the super soft tri-blend cotton of the Jada collection, for your little one's undershorts. This super-soft breathable material helps to keep your little lady comfy and free of irritation or rash due to sweaty body parts.
To find out more about the benefits of choosing undershorts for your daughter's summer dress ensembles, check out Lucky & Me's underwear collections. Don't forget to pack a set for your vacay or summer camp!
---
By Rochelle Perera. Rochelle is Co-founder and Chief Product Officer of Lucky & Me. Rochelle is a mom who believes all children deserve comfy clothing. She grew frustrated with buying scratchy, badly-fitting underwear her daughter hated to wear and decided to take matters into her own hands. Rochelle has 20 years of experience in fashion, so she created Lucky & Me to offer parents comfy, quality, durable basics your kids will love. Rochelle enjoys bringing her expertise to our blog.